Praise for Noah Henry, The Sewing Lesson, and Masks!
Buy the books here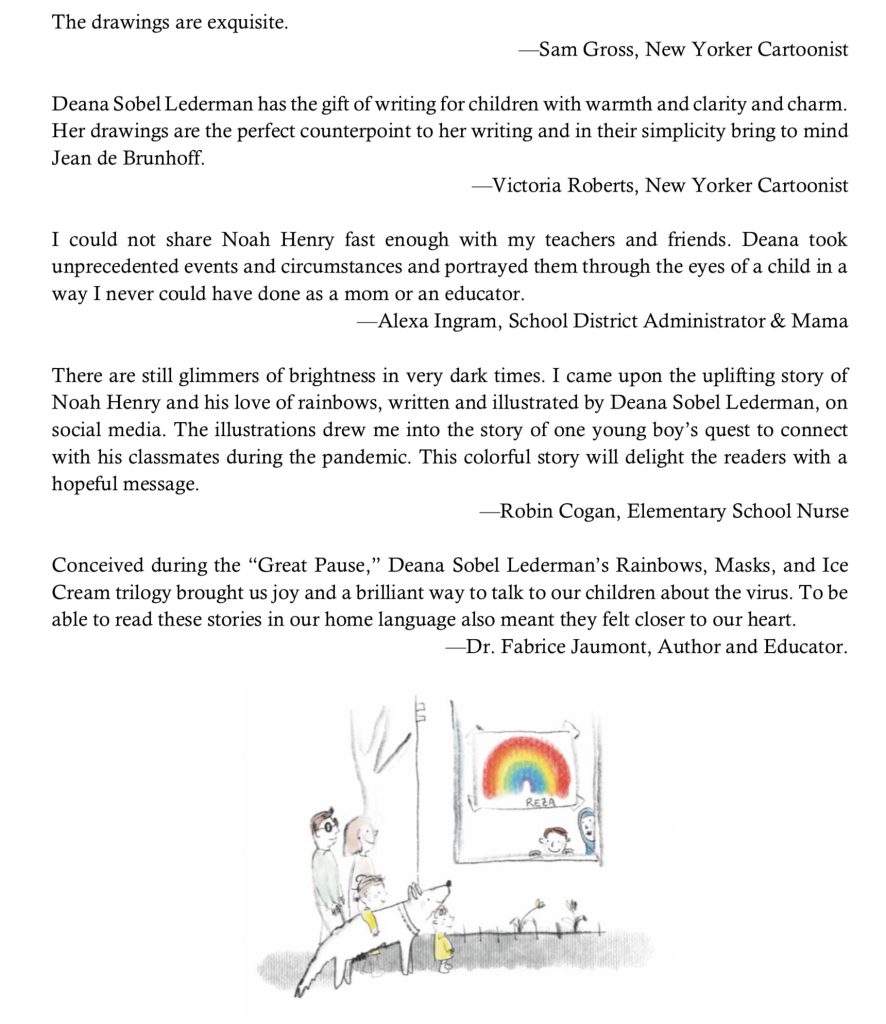 Helping Kids Cope with Covid
By Gloria Goldreich November 2020
Whether teaching resilience in the face of adversity or giving lessons on navigating the realities of the pandemic, this group of books can help children face fears and anxieties.
Noah Henry: A Rainbow Story; Masks!; The Sewing Lesson All written and illustrated by Deana Sobel Lederman (TBR Books, 24-30 pp.)
Kudos to Deana Sobel Lederman for creating this welcome trio of charming paperbacks to reach out to the very youngest readers dealing with the safety restrictions of the pandemic. Recently translated into Hebrew, with simple, appealing illustrations, they stress the importance of masks and the joy of sharing. Noah Henry cannot be with his friends in school right now but finds a way to reach out to them to brighten his day; in Masks!, a group of young animals cover their faces before going about their day; and a young girl learns how to sew a mask for health care workers, including her grandfather, in The Sewing Lesson.
---
About Deana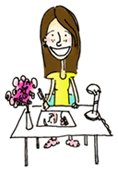 Deana Sobel Lederman is a cartoonist and illustrator who lives in San Diego, California with her husband and two young sons. Her trilogy of picture books about the Covid-19 pandemic, "Rainbows, Masks and Ice Cream," was published by TBR Books in 2020. She also writes the webcomic Philip the Sea Lion. Her work has been featured by the Morgan Library and Museum, the National Children's Museum, the Minnesota Children's Museum, Parents Magazine (social media), Business Insider, Barron's, the Brooklyn Public Library, and the New York City Department of Education's publications. You can learn more about her work in New York in French, as well as this interview by ABC San Diego.
As an undergraduate at UC Berkeley, Deana illustrated and cartooned for The Daily Californian. She earned national recognition for her editorial cartoons and was a finalist for both the John Locher Memorial Award and the Society of Professional Journalism Mark of Excellence Awards. Her comic strip, Roomies, based on the lives of Deana and her six college roommates, was a finalist for MTV U's comic strips contest. In 2008, she received a JD from UC Berkeley School of Law, where she concentrated in copyright and patent law.
You can follow her on Instagram @drawdeanadraw.
Deana is represented by Darlene Chan at the Linda Chester Literary Agency.